This page lists past and upcoming events
Upcoming events
Stay tuned for our AGM and pub night in January 2018!
School of the Environment Student- Faculty Meet & Greet
November 8th, 2017
12:00 pm to 1:30 pm
MP 110 (Physics Lounge)
Past 2016-2017 Events
Meet GESA at the School of the Environment 2016-2017 Graduate Student Orientation!
September 8th, 2016
12:30pm to 2:30pm
5 Bancroft Avenue, Earth Science Building, Room ES 149 & ES 1042
Past 2015-2016 Events
Spring GESA Pub Night

Come out March 31st at 6pm for the last GESA Pub Night of the year!
A law student, an engineer, and a chemist walk into a bar…

That's not the begining of a joke. That's the begining of a great evening!
Meet graduate students from other faculties, talk about environmental issues, mingle and enjoy a light evening with GESA. As a part of our mission, we bring graduate students from departments who have collaborative programs with the School of the Environment, which means there'll be a diversity of attendees from many different disciplines.
$2 drinks, great conversation and warm weather all make for good evening, we look forward to seeing you there!
Theme Pub Night – COP21

A Pub Night to discuss about the Climate Change Conference with UofT students who    joined the UofT COP21 delegation in Paris.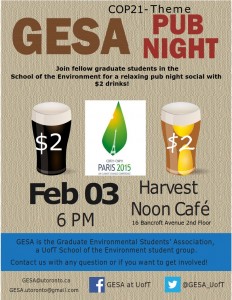 Movie Night – Watermark
Presenting the documentary WATERMARK by Jennifer Baichwal and Edward Burtynsky Followed by a Panel discussion about water!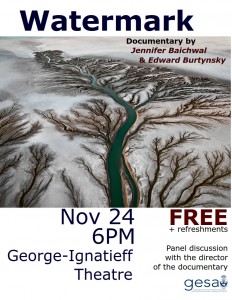 Social Event at Harvest Noon!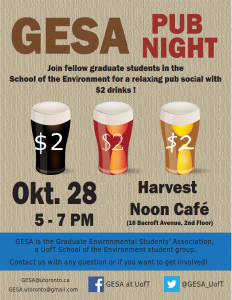 2015-2016 GESA Executive Elections
Time: September 25, 1-3 PM
Place: ES1042
We encourage you to get involved! Being on the GESA Exec is a great way to meet talented and motivated peers at the School of the Environment!
For details and a list of declared candidates, see our election page.
Social event at Harvest Noon!
Thurs., September 10, 5 – 7 PM
Facebook event is here!
This will be a great opportunity to mingle with School of the Environment graduate students after the orientation session. If you're interested in running for a GESA Exec position, last year's Exec will be there to answer questions and chat.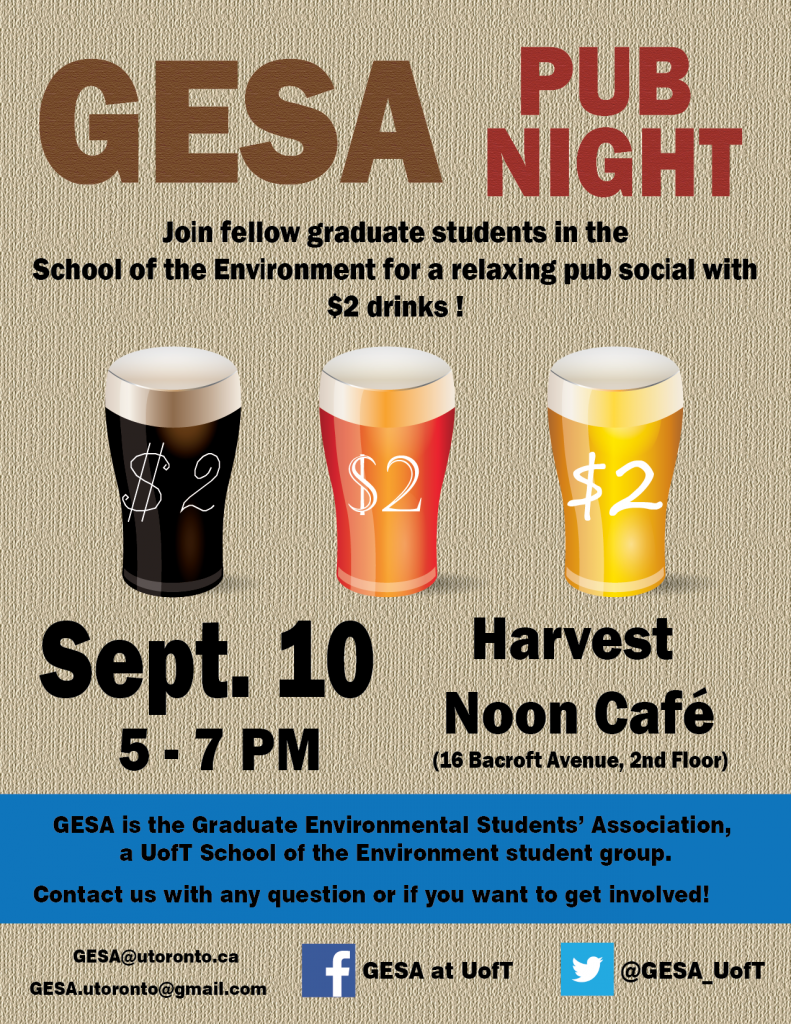 Past 2014-2015 Events
Summer Social
June 25, 2015
Informal discussion about the Jobs, Justice & Climate march and $2 pints for School of the Environment grad students!
Spring Social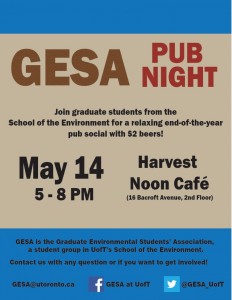 Bees, Neonics and Policy
Join us for an informative panel discussion with speakers from science, policy and the agricultural industry:

Sheila Colla, Wildlife Preservation Canada
Don McCabe, Ontario Federation of Agriculture
Maria Trainer, CropLife Canada
Julia White, Ontario Beekeepers' Association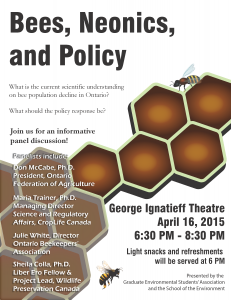 Facebook event page: Bees, Neonics, and Policy
Weekly informal discussions about environmental issues and current events
Now complete for the 2014-2015 school year
When: Fridays at 1 PM
Where: ES1042
GESA Winter Pub Night 
Date: January 21, 2015, 5 – 7:30 PM
Where: Harvest Noon Cafe (16 Bancroft Ave., 2nd floor)
---
Panel discussion: Environmental Studies vs. Science
Reflecting on the Interdisciplinary Nature of the School of the Environment
Speakers: Ayaz Hyder, Douglas Macdonald, & Stephen Scharper
Date: Tuesday, November 25th, 4 – 6 PM
---
GESA Pub Night When: Wednesday, October 22, 5 – 7:30 pm Where: Harvest Noon Cafe (16 Bancroft Ave, 2nd floor)